Mr. Sanat Shah
Consultant Trauma & Orthopaedic Surgeon
Sanat Shah is a consultant trauma and orthopaedic surgeon based at Manchester Royal Infirmary since 2003.
Mr Shah qualified in 1986 in the state of Gujarat, India. After excelling in his initial postgraduate training within trauma and orthopaedics, he was offered the opportunity to work in the United Kingdom.
He has undergone extensive postgraduate training in India and the United Kingdom with an AO Fellowship under Professor H J Ostern at Allgemeines Krankenhaus, Celle, Germany in 1996. He underwent his specialist orthopaedic training in and around the Manchester and Southampton regions and developed sub-specialty interest in hip and knee replacement and revision surgery.
Mr Shah is actively engaged in the teaching of medical students from the University of Manchester.
Qualifications:
MBBS, MS Ortho, MCH Orth, FRCS Orth
Specialist Interests:
Hip and Knee Replacements
Hip and Knee Revision Surgery
Hip and Knee Arthroscopy
Hip Impingement
Labral Tear
Meniscal Injuries of the Knee
Diseases Affecting the Hip and Knee in Young Adults
Medico-Legal Experience:
Mr Shah has been preparing medical reports for over 15 years. He attended a Medico-Legal Report Writing Course in London in October 2003. He also attended Basic and Advanced Report Writing Courses by Professional Solutions in 2005.
Memberships:
General Medical Council
British Orthopaedic Association
Hospital Consultant and Specialist Association
The Royal College of Physicians and Surgeons of Glasgow
Manchester Orthopaedic Group
Indian Orthopaedic Society
Awards:
North West School of Surgery Certificate of Excellence in Education 2018
Ranked 1st in MS Orth degree in Gujarat University, India.
Teaching:
GMC accredited Educational and Clinical Supervisor
Examiner for Manchester University for Undergraduate Medical Examinations.
AOUK Faculty Member for teaching on AO Courses.
Tutor for two physiotherapists for their MSC in Advanced Physiotherapy Practitioner course.
Management:
Advancing Quality Clinical Lead for the North West Region for AQUA Programme.
Clinical Lead for Elective Orthopaedics at Central Manchester Foundation Trust 2015 – 2018.
Appraisal Lead for Trauma and Orthopaedics Directorate at Manchester Royal Infirmary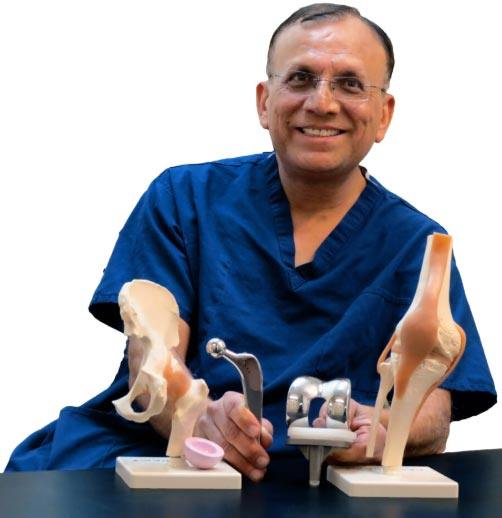 Research:
Thesis:
Study of factors influencing the outcome of Ilizarov technique in the treatment of Nonunion, malunion, and Infection.
Publications:
Kapandji Intrafocal Wiring of Distal Radial Fractures. S.V.Shah. D.Robinson, A.S.Paul. Jour. Orthop. Update 1994: Vol.4: 60-64.
Fractured Tibial Nails and an Alternative Method of Retrieval: Two Cases. C.R.C.Walker, S.V.Shah, D.S.O'Donoghue, A.S.Paul. International Journal of Orthopaedic Trauma 1994; 4: 134-136.
Fracture of the Acromion associated with Acromioclavicular Diclocation. N.M.G.Kurdy, S.V.Shah. Injury Vol.26: 636-637,1995.
Popliteal Artery Laceration associated with a Closed Tibial Fracture: A Case Report. D.Sochart, S.V.Shah, A.S.Paul. International Journal of Orthopaedic Trauma 1996; 6: 90-91.
The Ilizarov method in Nonunion, Malunion, and Infection of Fractures. D.R.Marsh, S.V.Shah, J.Elliot, N.Kurdy. Journal of Bone & Joint Surgery Vol.79-B, No.2: 273-279, 1997.
Unusual Monteggia Fracture-Dislocation: A Case Report. S.V. Shah, J. Doyle. Jour. Orthop. Update 2000: Vol.10: 65-66.
Valgus Deformity of Distal Tibial Fracture After Intramedullary Nailing. N.R. Senbaga, S.V. Shah, M.I. McLaren. Injury Extra Volume 35, Issues 7-8, 53-55, July – August 2004.
Sciatic Nerve Palsy Following THR. L Babu, S V Shah, R Samarji. J Bone Joint Surg Br – eletters for Butt et al., 87-B (11) 1465-1467.
What Does a Junior Doctor Need to Know to Manage Joint Arthroplasty Patient. Foundation Trainee Journal, 2017.
Mr. Sanat Shah
BMI The Alexandra Hospital

Spire Manchester Hospital